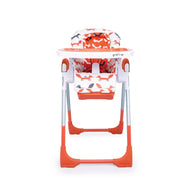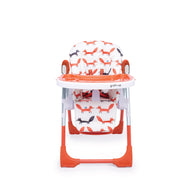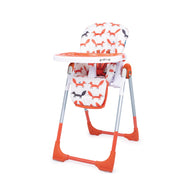 5 Reasons to Buy
The Noodle highchair from Cosatto just got even better. Building on the Which? award-winning features of the Noodle Supa, Noodle 0+ highchair is suitable from birth and has an added new reclining cradle feature for your baby along with a host of other new features.
5 Reasons to Buy
Newborn Cradle– Cosatto's new Noodle 0+ highchair comes with a reclining cradle feature for when the baby arrives. Suitable from birth, the Noodle 0+ is a reclining cradle with a luxury padded newborn liner from 0-6 months before turning into a highchair up to 36 months approx. Remove the tray for up-to-table mode to encourage bonding and develop social skills.
Makes life Easy– The Noodle 0+ has a padded reclining highchair seat and adjustable calf support for extra comfort. It also has a compact freestanding flat-fold for easy storage. Plus, the easily adjustable tray is removeable and even bigger. With all of this together with 7 height adjustable positions and handy tray storage, Noodle 0+ really makes life easy for you.
Fire their Imagination- The Noodle 0+ is crafted with hidden extras and Cosatto's famous storytelling patterns that babies love. 8 out of 10 kids chose Cosatto for a reason and our new Noodle 0+ highchair will really fire their imagination.
Easy Clean– Noodle 0+ highchair has an easy clean washable tray along with a wipe-clean padded seat cover.The top tray is also safe for use in the dishwasher on an eco-setting.
4 Year Guarantee- The Cosatto Noodle 0+ highchair comes with an industry-leading 4 year guarantee for your peace of mind.
Product Specification
Suitable from birth to 15 Kg (approximately 3 years). That's one exciting food journey.
Reclining cradle function from 0-6 months.
7 height position adjustable seat. No need to bend with this adjustable friend.
Pop-off easy-clean trays.
Top tray safe in dishwasher on eco-setting.
Wipe-clean padded seat cover.
Upper tray has cup holder.
Removeable trays so baby can join you at the table for chat and bonding.
5 position seat recline and adjustable calf support for all stage comfort.
Comfy cosy liner for your baby's comfort.
Easy to use compact fold. When you need the room for dancing. Fast.
Folds flat and free-standing with handy tray storage.
Fully removable seat pad and trays for easy cleaning. Tidy teatimes.
Compulsory 5 point safety harness. Noodle 0+ is super secure.
Seat pommel prevents seat slip-downs.
Testing & Safety
TESTING: WE DON'T STOP AT STANDARD
Your baby's safety is our obsession. This means you can have confidence in world class products that are tested above and beyond Australian and European safety standards. That's just for starters
Our dedicated technical team scrutinise everything over and over until each product meets our own stringent requirements too. We also real-life test for your anticipated usage. If a test doesn't exist we invent it ourselves. All our products are then extensively user-trialled by parents before they finally make the grade. They don't just test our stuff. They live it.
We constantly assess, redevelop and test our products in conjunction with leading European independent test bodies and you guys. Your feedback is vital. Unless our products are beyond tough, they don't get the green light.
From-birth recline
Noodle 0+ has a from-birth reclining cradle mode featuring a soft newborn liner. The adjustable calf support brings extra comfort.

Dine high or low
Adjusting to 7 different heights to suit your feeding needs, with handy tray storage feature, Noodle 0+ makes your life easy.
Compact fold
Noodle 0+ has a compact freestanding flat-fold for easy storage. Reclaim your kitchen space fast.

Mary's Meals
Buy a highchair. Feed a child for a week. We donate to Mary's Meals global charity with every highchair bought.
Add To Wishlist
Compact-folding adjustable highchair with from-birth reclining cradle mode.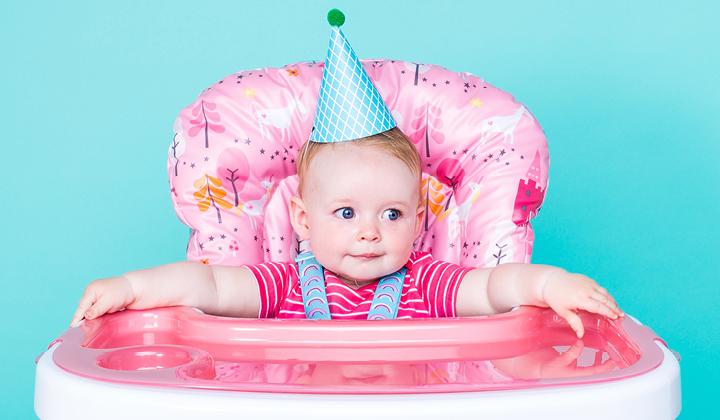 Life's a Breeze
Start their big food adventure with our award-winning highchairs. From statement spinner to foldable friend, discover easy-clean, easy-wean, easy-to-love heroes. 
Show us your Cosatto
There's a bit of Cosatto waiting to burst out of everyone. Express yourself. Show us your most Cosatto look. Share your most Cosatto moment…
#bemorecosatto